ShopSavvy
Enterprise
Analyze comprehensive, real-time retail intelligence data for millions of products from over
70,000 retailers and millions of sellers
across
all
popular marketplaces.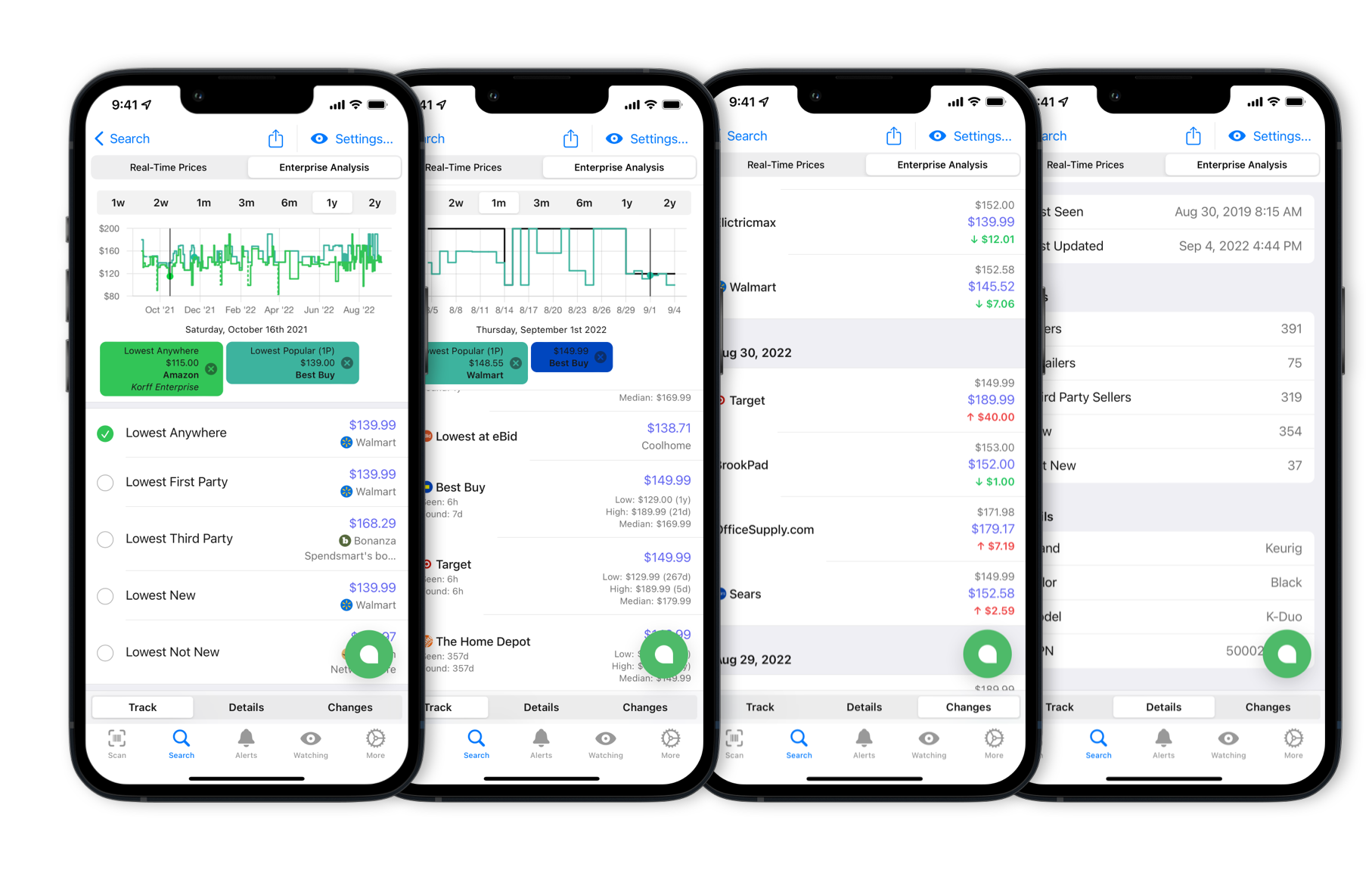 Advanced Retail Intelligence
ShopSavvy's technology enables you to stay ahead of the competition by analyzing and tracking prices, availability and more across all retailers and marketplaces.
⚡️

Real-Time + Comprehensive Data

ShopSavvy knows about every retailer and seller selling an item, and monitors them all for changes in real-time.

👩🏼‍💼

Track Individual Marketplace Sellers

Analyze data about millions of sellers to find trends and insights for your business.

💰

Buy Box History Tracking

Gain insight by tracking the Buy Box to see who is winning it over time.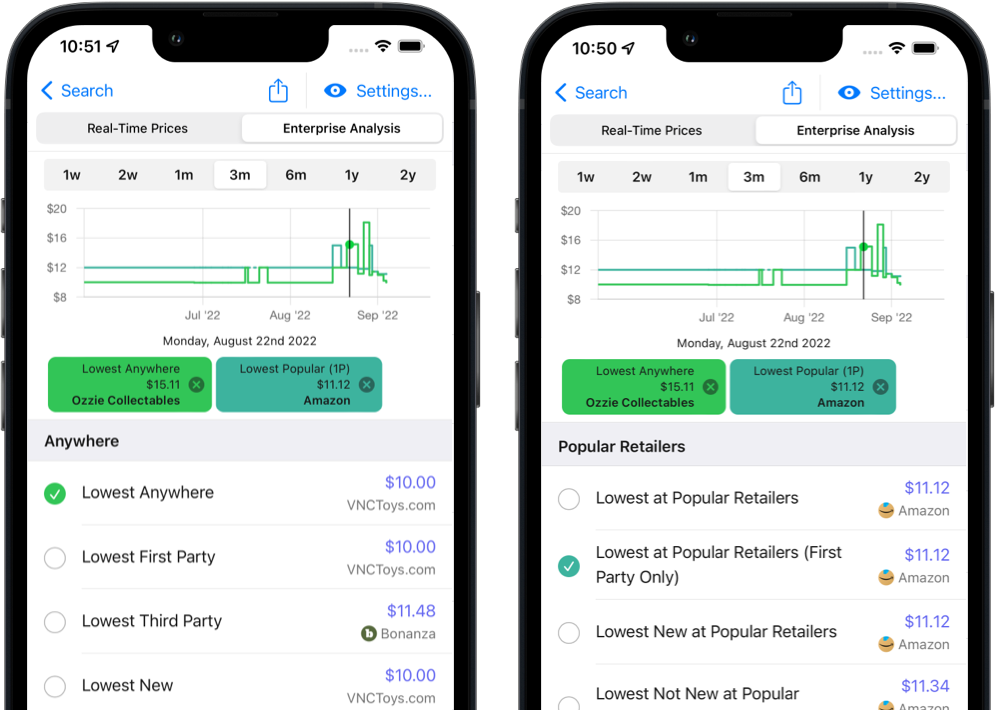 Actionable Data You Can Use
Pricing items correctly can be challenging, but with ShopSavvy Enterprise you'll know exactly how to price your product, no matter where, what, or how you're selling.
🛤

Tons of "Tracks"

ShopSavvy Enterprise helps you analyze historical data in tons of different ways like the lowest price anywhere, or just at popular retailers, or just third party sellers, and many more!

👆

Interactive Charts

Scrub across the chart to see your selected tracks, retailers, or sellers change over time.

🗃

Historical Data Done Right

In-depth comprehensive historical data, everything you'll need to make your pricing decisions.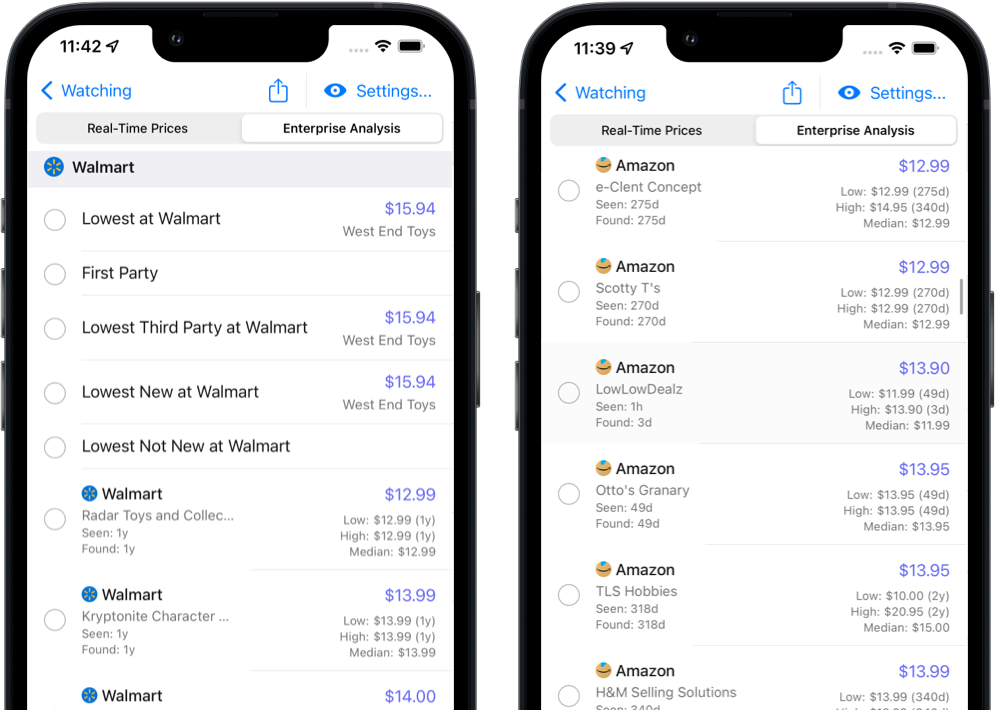 Comprehensive Competition Analysis
Detailed information about the full list of sellers for a product, across all popular marketplaces, not just Amazon.
🗿

Detailed Historical Data

Marketplaces change fast, and ShopSavvy tracks everything. See how each marketplace is moving, or see how any individual seller has changed their price over time.

📆

First & Last Seen

Know when sellers enter or leave a marketplace, and which ones you're actively competeting with.

📈

Low, High & Median Price

Analyze pricing strategies of any individual seller, and set your prices accordingly.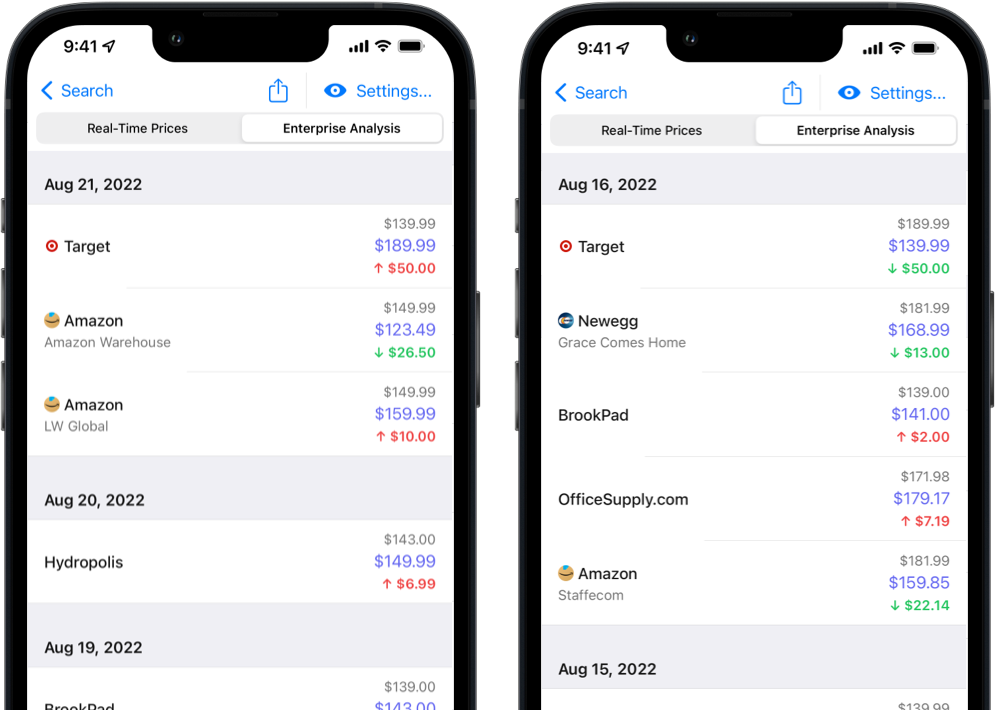 Every Change, Every Store, Every Seller
See a comprehensive timeline of every change in price and availability, for any product, across all popular marketplaces.
🎛

Every Single Change

ShopSavvy Enterprise is the only service that tracks *all* price/availability changes, across over 70,000 reatilers and millions of sellers.

💡

Discover Market Trends

You'll be the first to know when any retailer or seller changes their price, so you can keep up.

👩🏻‍💼

Compete with Confidence

Know the exact right time to make changes, and how it will compare to other sellers and retailers.
ShopSavvy Enterprise is available in the US only for now.
All Enterprise plans allow for up to
20 items
to be refreshed and checked for price and availibility changes at intervals of "every 4 hours" or "every 1 hour".
If you need to refresh more items at these frequencies, or have any other questions please reach out at
business@shopsavvy.com
.